The Intersection between the Arts in Education, Health, Community and Therapy in International contexts: Tradition, Innovation and Breakthroughs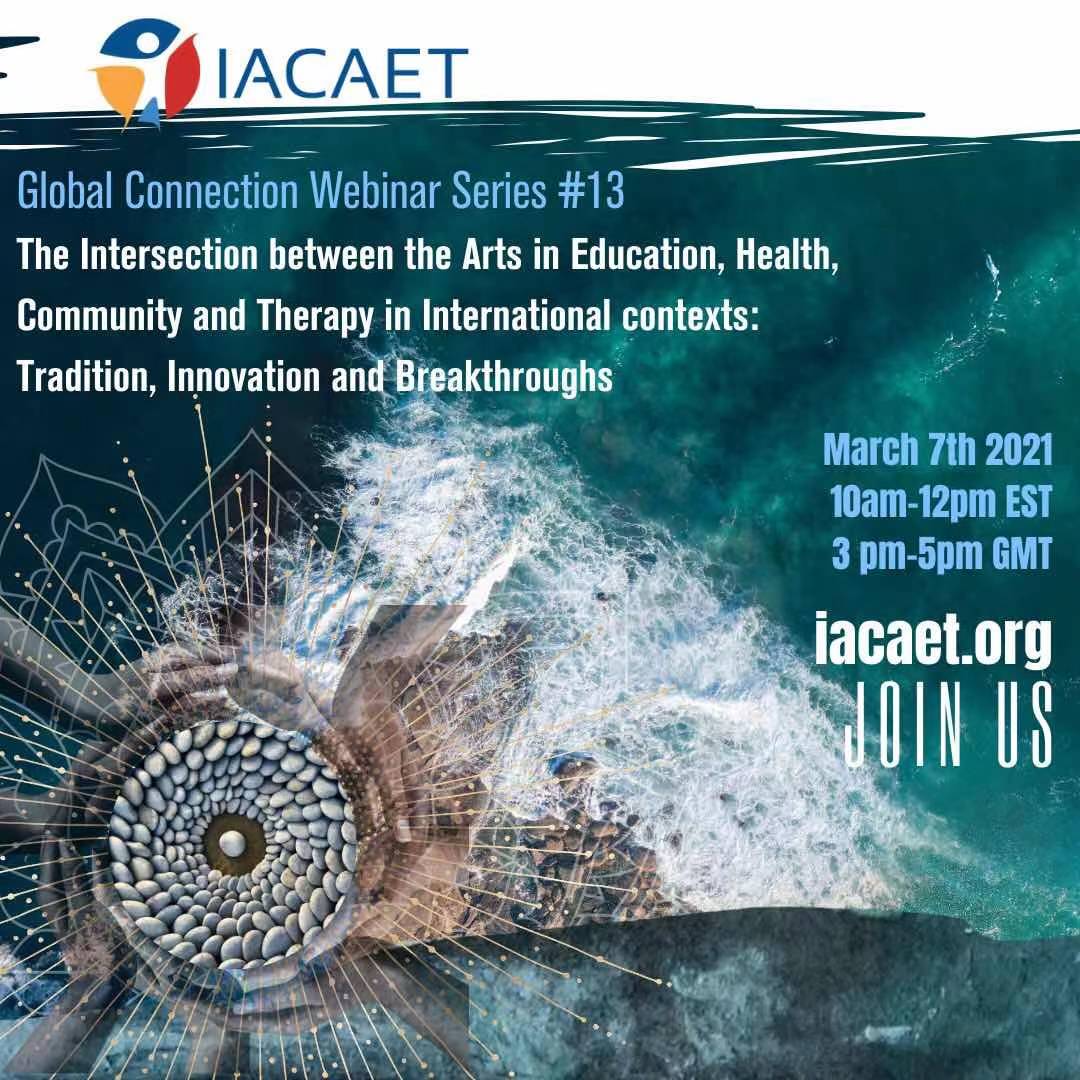 The Intersection between the Arts in Education, Health, Community and Therapy in International contexts: Tradition, Innovation and Breakthroughs
5305 people viewed this event.
This webinar is intended for artists, community workers, educators and therapists who use and integrate the arts and creative process into their personal and professional practice. Creative expression has proven to be a timeless and universal vehicle for learning, community enhancement, innovation, healing, recovery and well-being.
The Intersection between the Arts in Education, Health, Community and Therapy
in International contexts: Tradition, Innovation and Breakthroughs
March 7, 2021, 10-12 Eastern Standard Time
IACAET offers an International Webinar on Sunday, March 7th at 10 am EST on The Intersection between the Arts in Education, Health, Community and Therapy in International contexts: Tradition, Innovation and Breakthroughs. This webinar is intended for artists, community workers, educators and therapists who use and integrate the arts and creative process into their personal and professional practice. Creative expression has proven to be a timeless and universal vehicle for learning, community enhancement, innovation, healing, recovery and well-being.
• The arts open pathways to understanding and communication between peoples and serve as channels for creativity and celebration, transforming the most difficult and challenging conditions into affirmations of life and the human community.
• The arts provide people with a tangible result for their efforts through both individual or collective creations.
• The arts mobilize passions and courage in the service of the common good.
• The arts build bridges that cross boundaries and unite people through their common humanity and needs for creative expression.
Presenters in this webinar have developed and implemented training programs and initiatives in a wide variety of settings around the world and will be sharing their experience and expertise.
Participants in this webinar will learn about
1. The development of art-based regional, national and international programs in education, therapy, community development and allied professions from leaders in these fields across the world.
2. Applications of the life-enhancing properties of the arts to promote well-being across disciplines, cultures, and institutional contexts.
3. Nature-based and ecological art practices informed by history and world traditions together with contemporary initiatives.
4. The use of artistic expression in researching these needs and practices which address them.
Speakers
Shaun McNiff​, PhD, University Professor, Lesley University. His books and essays have been widely influential and translated into many languages. He leads art studios, lectures, and teaches throughout the world and is currently working to further East-West cooperation as Co-Editor in Chief of CAET​​. The recipient of numerous honors and awards, including the Lifetime Achievement Award of the Journal of Applied Arts and Health for his leadership in advancing art as research and the Honorary Life Member Award of the American Art Therapy Association. He established the first integrated arts in therapy and education graduate training programs at Lesley University from which the field of expressive arts therapy emerged and in 2002 Lesley appointed him as its first University Professor. His lifework is committed to furthering universal access to artistic expression in all aspects of life while approaching the art experience as an eco-system of creation which transcends institutional separations of art forms.
Vivien Marcow Speiser is a Professor in Dance and Expressive Therapy and Co-Director of the Institute for Arts and Health in The Graduate School of Arts and Social Sciences, Lesley University. She is a licensed mental health counselor, a dance therapist and an expressive arts therapist and educator. Her work has allowed her unparalleled access to working with groups across the United States, Israel and internationally. She has used the arts as a way of communicating across borders and across cultures and believes in the power of the arts to create the conditions for personal and social change and transformation. As former founder and director of the Arts Institute Project in Israel, she has been influential in the development of Expressive Arts Therapy in that country. Her current interests are in working with communities under duress, trauma through the arts, and cross-cultural conflict transformation. She is a co-editor of The Arts, Education and Social Change: Little Signs of Hope, published by Peter Lang.
Tony Yu Zhou, holds a doctoral degree in biomedicine and has been working and living in China and Europe for many years. Though trained as a scientist, he has been greatly intrigued by modern dance and dance therapy since 2002 and has played an important role in driving the development of creative arts therapy and somatic education in China. Dr. Zhou serves on an international advisory board for the journal Body, Movement and Dance in Psychotherapy. He founded Inspirees Institute and Creative Arts Education and Therapy (CAET) – East and West Perspectives, the international open access journal. He is also a certified movement analyst (CMA) trained by LIMS in New York. Dr. Zhou is the team leader for the Chinese Group of Arts Therapy, Chinese Psychological Society, Guest Professor of Beijing Normal University, Co-founder and core member of World Alliance of Dance Movement Therapy. He also serves as the general secretory of The International Association for Creative Arts in Education and Therapy (IACAET).
Dr Stacey Bush, BA(Hons), GradDip CAT, MACAT, ProfDoc, AThR. Stacey is an academic working at The MIECAT Institute, Melbourne, Australia. In this capacity, she is involved in teaching in the Masters program, coordinating practicum subjects in the program, and supervising doctoral students. Stacey has previously worked as an arts therapist with children experiencing grief and loss. Her current interests involve exploring emergent content in process of arts making and the intersubjective relationship between artist and materials. Within this, the collaborative relational aspect of engaging lived experiencing using multi-modal art forms to inquire into what is meaningful drives Stacey's work practice and research interests.
Stephen Clift (BA, PhD, PFRSPH) is Professor Emeritus, Canterbury Christ Church University, and former Director of the Sidney De Haan Research Centre for Arts and Health. He is a Professorial Fellow of the Royal Society for Public Health (RSPH) and is also Visiting Professor in the International Centre for Community Music, York St John University. Stephen has worked in the field of health promotion and public health for over thirty years, and has made contributions to research, practice and training on HIV/AIDS prevention, sex education, international travel and health and the health promoting school in Europe. His interests relate to arts and heath and particularly the potential value of group singing for health and wellbeing. Stephen is one of the founding editors of the journal Arts & Health: An international journal for research, policy and practice. He was the founding Chair of the RSPH Special Interest Group for Arts, Health and Wellbeing, and a founding trustee of Arts Enterprise with a Social Purpose (AESOP). He is also co-editor with Professor Paul Camic of the Oxford Public Health Textbook on Creative Arts, Health and Wellbeing published in November 2015. Currently, he is working on developing a series of provocations in arts and health research. a special collection of critical papers on arts and health with Frontiers in Psychology, and a special issue of the International Journal for Community Music on the impacts of the COVID-19 pandemic. Read Singing, Well-beings and Health
Jun Hu, Chair of Art Education Department & Dean of A/r/tography Research Center of Hangzhou Normal University, Chair of Asian Regional Council of International Society for Education through Art (InSEA), and Member of the Autism Professional Committee of Zhejiang Neuroscience Society. He considers himself an a/r/tographer that resides in the liminal spaces in-between the artist, the researcher and the teacher, drawing inspiration and knowledge out of their mutual impact. As founder of A/r/tLink Charity Project, his art therapy projects have won national and international recognition for functionality and ingenuity, including the "In/visible" that enables the blind kids to engage in art, the autistic children's rehabilitation through interactive art, and the "Light through Wall" that helps the juvenile inmates to re-create identity through light-painting.
Amia Lieblich is an Israeli psychologist and writer, who has gained prominence in the field of qualitative research (and narrative studies) in psychology. She is professor Emerita from Hebrew University in Jerusalem where she has also served as Dean of students. Since her retirement from Hebrew University, she has served as President and is a faculty member at the Academic College of Society and the Arts/ Ono Academic College. One of the leading scholars in narrative psychology, and the editor of the annual publication The Narrative Study of Lives (with R. Josselson and D. McAdams), Lieblich's research focuses, among other fields, on various aspects of Israeli society including military service, the Kibbutz movement, life stories of women, and the "new family" in Israel. Her books on various aspects of Israeli society include Tin Soldiers on Jerusalem Beach , Kibbutz Makom, Transitions to Adulthood during Military Service, Seasons of Captivity , Conversations with Devora and Learning about Lea. Her study about Narratives of Positive Aging was published by Oxford, NY in 2014. Her most recent work concerns conversations about death and dying in the framework of "Death Café". Together with R. Josselson and D McAdams, she has edited the series "The Narrative Study of Lives". Among her activities is facilitating groups of autobiographical writing for groups of women in retirement.
Devika Mehta is a Dance Movement Psychotherapist (R-DMP) registered with Association of Dance Movement Psychotherapy, UK and Indian Association of Dance Movement Therapy (IADMT). She is the Program Head for the Post Graduate Diploma Program in Expressive Arts Therapy at St.Xavier's College, Mumbai and faculty for Diploma courses in Dance Movement Therapy. She is the Co-Founder of 'Synchrony'(​www.synchronyindia.com​) that provides mental health services and trainings through creative arts with various populations. Ms.Mehta is the Founding board member of the Indian Association of Dance Movement Therapy (​www.iadmt.org​). She is the Regional Director of South Asia for the International Association of Creative Arts in Education and Therapy. She has represented her work in India at International Conferences across USA and Europe. She has contributed to the article on Development of DMT in Asia. Her areas of interest are neuro-rehabilitation, embodied indigenous knowledge and adolescents.
Nsamu Moonga is a music therapist and psychotherapist born and raised in Zambia. Nsamu earned a BA in Psychological Counseling from the University of South Africa and MMus in Music Therapy from the University of Pretoria. A therapist grounded in holistic anti-oppressive practice, Nsamu works with people exploring health and lifestyle choices, medical complications, human sexualities and gender, spiritualities and religious experiences, psychosocial support, and learning enhancement. His music therapy experience span health, medical, and school settings, and centre human development programing, design and facilitation, community infrastructure and social development, cross-cultural living and working. Nsamu is a classically trained singer and enjoys dancing. His interests include lifelong development, learning, and critical theory-informed research. He enjoys long-distance running and writing mystical poetry. He is a foodie, enjoys mentoring youth, and loves being an uncle. Nsamu's affiliated with the Health Profession Council of South Africa, South African Music Therapy Association, South African National Art Therapy Association, and Institute for Creative Conversations.
Warren Nebe is an academic, theatre director, arts therapist and activist in the fields of applied arts, arts therapies and arts research. He is the founding Head and Director of Drama for Life, University of the Witwatersrand and is a Senior Lecturer. He is a registered member of International Association of Group Psychotherapy (IAGP), American Association of Psychodrama and Group Psychotherapy (ASGPP), North American Drama Therapy Association (NADTA), Health Professions Council of South Africa (HPCSA), Psychological Society of South Africa (PsySA), and South African National Arts Therapy Associations (SANATA). He an accredited guide of the Listening Hour and a Playback Theatre practitioner. Warren is a Salzburg Global Fellow, a Fulbright Fellow and the recipient of several awards, including the Vice-Chancellor's Transformation Award and the Adelaide Tambo Human Rights Award.
Naj Wikof, MA – Vice President, NOAH, the National Organization of Arts and Health. Naj is a two-time Fulbright Senior Scholar, past president of the Society for the Arts in Healthcare, former director of the Healing Arts program of the C. Everett Koop Institute at the Dartmouth Medical School, and director of Arts and Productions at the Cathedral Church of St. John the Divine. Naj is a founding member of the National Initiative for the Arts in Health in the Military and Lesley University's Institute for Arts and Health. Twenty years ago, he established Creative Healing Connections, which uses the arts and nature to support the healing of women living with cancer, military spouses, and active duty and veteran service women living with PTSD and Military Sexual Trauma. Naj regularly consults on arts and health, healing spaces, and arts and trauma issues to health and arts institutions, and has worked with victims of terror and war in Palestine and Israel. In addition, for the past six years as arts coordinator for Connecting Youth and Community, Naj has been using the arts to reduce the use of tobacco, alcohol and other drugs by teens.